Crafting the Story
Instructor: Sarah Van Arsdale
Friday, July 12, 2019 - Thursday, July 25, 2019
Writing great fiction or memoir involves two things: letting go of the conscious mind's grip on the story, and then consciously using the elements of craft: setting, dialogue, plotting and character development. In each meeting, we'll do writing exercises to help loosen up the conscious mind's grip on the writing, and we'll talk about how to very consciously create the story you most want to write. Beginners and advanced writers are welcome.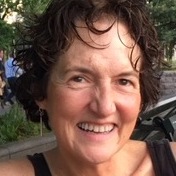 Sarah Van Arsdale Award-winning author Sarah Van Arsdale's fourth book is a collection of novellas titled In Case of Emergency, Break Glass, (April, 2016, Queen's Ferry Press. Her novels are Grand Isle, (SUNY Press 2012), Blue, winner of the 2002 Peter Taylor Prize for the Novel, (University of Tennessee Press), and Toward Amnesia, (1996, Riverhead Books). Her work has been a finalist in national and international writing contests. She serves on the board of the Ferro-Grumley Award in LGBTQ Fiction, and teaches in the Antioch University MFA Program and at NYU. She has taught creative writing with Art Workshop International (2016) and at the MFA in Writing Program at Bar-Ilan University in Israel. She also runs the Bloom reading series in New York City.
With AWI teacher Peter Bricklebank, she'll be co-leading a creative writing workshop in Oaxaca, Mexico, in January, 2019; see writeinmexico.org for more information.