We stay and hold workshops in the 4-star Giotto Hotel. Situated within the walls of the old city of Assisi halfway between the Basilica de San Francesco and the Comune del Assisi (the central piazza). It is comfortable, elegant, air-conditioned, and well appointed with a full and very helpful staff. Housed in an eighteenth-century building, it has modern updates yet retains its historic charm. All our rooms have a private bath and a magnificent view of the town and the Umbrian plain below. The guest rooms, dining room, terraces, and the studio all face the panoramic view.
Our participants say we need to emphasize the superb cuisine. Since the weather is almost always sunny, we eat breakfast on the patio. Dinner, specially prepared for us, usually starts with an antipasto (usually a full salad bar), then a primi (often a pasta dish), followed by secondi (main entrée), and finally, dessert. From the lemon ravioli to the tiramisu, this is Umbrian cuisine at its best. The dining room staff is very friendly and efficient, and we are treated like members of the family.
Art Workshop International has been coming to Italy each summer since 1983. We are part of the history and culture of Assisi (there is even a brick named for Art Workshop International on the commemorative walkway from Assisi to Santa Maria degli Angeli). We form a cohesive community where lasting friendships have been made and some lives are changed by the experience. Our participants tell us that meeting together at the end of the day is a special part of the program. It's a time to kick back, relax, and have fun. For many it's a dream to be part of an Italian experience — for the Italians know how to work, play, and enjoy the best of life.
One of the advantages of the Art Workshop visual arts program is the large air-conditioned studio that the hotel provides for our exclusive use. It has floor-to-ceiling windows, and artists are able to work at any time. There are individual easels and tables for each of our artists to use during the workshop session. Art Workshop International also maintains a library of art books to use as a reference. There is full internet access with wi-fi and wired connections in each room and wi-fi throughout the hotel.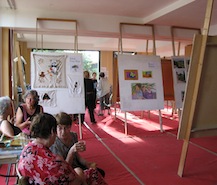 Painting Studio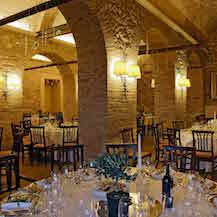 The hotel's dining room with ancient arches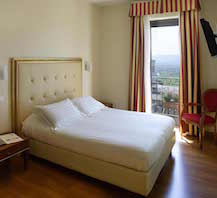 One of our hotel rooms with balconies overlooking the Umbrian valley